From: Professor Curtis J. Bonk, Indiana University
Contact: cjbonk at indiana.edu
Web Exploration Activity


"Exploring Online Tools and Resources for Student Motivation, Interaction, Collaboration, and Assessment."


Created August, 2007 - Last Updated August, 2011
Curtis J. Bonk, Mimi M. Lee, Thomas C. Reeves, & Thomas H. Reynolds (2015).

MOOCs and Open Education Around the World.
Routledge.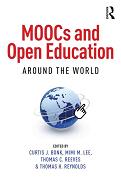 As new digital forms of informal and formal learning proliferate, there is an increasing need to better understand how people in different regions of the world are implementing massive open online courses (MOOCs) and other forms of open educational resources (OERs). In response, MOOCs and Open Education Around the World explores and illuminates unique implementations of MOOCs and open education across regions and nations. This edited collection explains MOOCs and open education trends and issues in a variety of locales, shares key research findings, and provides practical suggestions and recommendations for the near future. For details see
http://moocsbook.com/
I. Online Courses and Course Materials:
II. K-12 Web Resources:
III. Student Readiness Resources:
IV. Teaching and Instruction Resources (mainly from Illinois Online Network)
V. Constructivistic Web Resources:
VI. Blogging Web Resources:
VII. Interesting E-Learning Web Resources:
VIII. Web Tools for E-Learning (Most Free):
IX. Interactive News:
X. Simulations and Labs:
XI. Fun, Games, and Sounds:
XII. Learning Styles:
XIII. Online Communities and Virtual Teams:
XIV. Electronic Mentoring
XV. Synchronous and Asynchronous Conferencing Tools:
XVI. Lists of Conferencing Tools:
Conferencing Software for the Web Related Resources: (A link from Wooley's site providing a comprehensive list of conferencing resources)
David Wooley's massive Web site of conferencing software for the Web: (An independent guide to software for web collaboration, web conferencing, online communities & social media)
The CGI Resource Index of Perl conferencing tools: (A list of about 50 bulletin board message systems)
XVII. Electronic Survey Tools:
XVIII. College and University ePortfolio Web sites:
XIX. Portfolio and Assessment Organizations:
XX. Plagiarism and Fake Degrees:
XXI Portfolio and Testing Tool Vendors:
Note: Above Electronic Portfolio References were from:
Lorenzo Associates, Inc. Educational Pathways: info@edpath.com, Lorenzo Associates, Inc., P.O. Box 74, Clarence Center, NY 14032.  Copyright 2002-03. (Reprinted with permission.)
XXII. E-Magazines, Journals, Newsletters (most free!):
For a list of over 120 Educational Technology Journals, Magazines, Blogs, and Newsletters, please see Curt Bonk's Ed Tech Journals and Mags Web page.
XXIII. Generic Commercial Search Engines
XXIV. Metasearch and Graphics Engines:
XXV. Student Internet Interests:
©
Curt
Bonk (2007-2011)