Shared Online Video Resources, Portals, and Pedagogical Activities

From: Professor Curtis J. Bonk, Indiana University
Contact: cjbonk at indiana.edu
Bonk, C. J., Khoo, Elaine (2014)

Adding Some TEC-VARIETY: 100+ Activities for Motivating and Retaining Learners Online.

Amazon CreateSpace.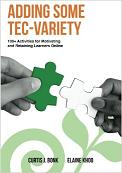 Using 10 theoretically driven and proven motivational principles, TEC-VARIETY offers over 100 practical yet innovative ideas based on decades of author experience teaching in a variety of educational settings. The printed version of this book is available for purchase from
Amazon CreateSpace
and
Amazon.com
. This book is also freely available as a PDF document to download, share, and use both in total as well as by chapter; see
http://tec-variety.com/
.
Reference: Bonk, C. J. (2008, March). YouTube anchors and enders: The use of shared online video content as a macrocontext for learning. Paper presented at the American Educational Research Association (AERA) 2008 Annual Meeting, New York, NY. Available http://publicationshare.com/SFX7EED.pdf
Great report: Alan D. Greenberg and Jan Zanetis (2012, May). The Impact of Broadcast and Streaming Video in Education: What the Research Says and How Educators and Decision Makers Can Begin to Prepare for the Future. Wainhouse Research Available http://www.cisco.com/web/strategy/docs/education/ciscovideowp.pdf
Shared Online Video Resources and Portals:
Additional Resource: The 100 Best Video Sites For Educators Available: http://edudemic.com/2012/08/best-video-sites-for-teachers/
Table 1. Ten Anchors and Enders: Instructor Centered
| | |
| --- | --- |
| Pedagogical Activity | Brief Description of the Idea |
| 1. Online Video Anchoring | Online videos are used as an anchor or advance organizer of a class lecture. |
| 2. Online Video Ender | Online videos are used after discussion and activities as a class "ender" or capstone event. |
| 3. Anchoring and Ending | One or more online videos are used to start discussion as well as others at the end of the class to draw a sense of closure to that discussion. |
| 4. Online Class Previews and Discussion | The instructor(s) finds videos and then posts them to the course management system for students to watch prior to or after class. If students participate in an online discussion based on such videos, the instructor should be clear about the length of post (e.g., two paragraphs) and how many comments of peers to respond to. |
| 5. Anchor with Discussion | The instructor(s) finds videos and shows them in class and students discuss them in small groups with certain assigned tasks. |
| 6. Pause and Reflect | The instructor(s) plays a portion of a YouTube video and pauses for reflections and then continues playing the video which is followed by still more class reflection. |
| 7. Key Concept Reflections | Instructor shows the YouTube video and asks students to reflect on concepts embedded in it. He may replay the video 1-2 more times while prompting the class for certain key concepts. He might ask students to say "pause" when they see a concept from a particular chapter or unit displayed. |
| 8. Video Anchor, Lecture, and Test (VALT) | Instructor(s) might show 1-2 YouTube videos at the start of a class and then lectures on topics related to concepts in those videos. When done lecturing, the instructor might show the same YouTube videos and ask for student reflection papers or discussion of what concepts are displayed in them. Such an activity might be embedded in a course quiz or examination. |
| 9. On-Demand Conceptual Anchoring | Instructor pauses a class activity or discussion at any moment and shows a YouTube videos related to a concept, theory, or idea being presented or discussed. |
| 10. Videoconferencing Anchors and Enders | YouTube videos might be shown in a videoconference or web conference with other classes and then used to spur discussion and interaction across sites. Controversial videos might be purposefully chosen to foster such interaction. |
Table 2. Ten Anchors and Enders: Learner Centered
| | |
| --- | --- |
| Pedagogical Activity | Brief Description of the Idea |
| 1. Cool Resource Provider Handouts | Students find videos and show them in class and discussion unfolds. Students assigned as the cool resource providers for the week are asked to create a handout for the videos and other course resources selected. |
| 2. Class Previews of Student Anchors | Have students (as cool resource providers) find videos and share with the class which previews them prior to the class meeting and discussion of them. |
| 3. Collaborative Anchoring | A pair of students as well as the course instructor each find a few relevant videos for the week and then share what they have found with each other and decide which ones to use in class. |
| 4. Student Anchor Demonstrators | Each student brings a video to class and presents and explains how each one is related to course concepts. A coinciding handout of videos and concepts is recommended. |
| 5. Anchor Creators | Students create their own YouTube videos to illustrate course concepts. |
| 6. Anchor Archives | An archive is created of videos from previous years and students are asked to update them. |
| 7. Video Anchor Competitions | Students find relevant videos and send the list to the instructor(s) for viewing and selecting.  The students whose videos are selected might receive special class recognition or bonus points. |
| 8. Anchor Sharing and Rating | Students might share YouTube videos across class sections or institutions and perhaps rate those posted by their peers. |
| 9. Video Anchor Debates | Students are asked to find YouTube or other online video content on the pro and con sides of a key class issue and then use them in face-to-face or online discussions and debates. |
| 10. Anchor Creator Interviews | Students find YouTube videos relevant to course concepts and email interview the creator about the purpose and potential uses of the video or perhaps request that the creator join the class in a synchronous chat. |